Gutter Service in Yakima, WA
Since opening in 2006, The Gutter Guys has been establishing itself as a premier gutter contractor for Yakima, WA and the surrounding areas. We pride ourselves on our strong work ethic, high level of integrity, and dedication to excellent customer service, providing only the best gutters around.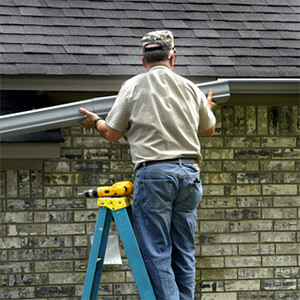 As a locally owned and operated small business specializing in gutter installation and cleaning gutters in Yakima, Harwood, West Valley, Union Gap, and Terrace Heights, WA, The Gutter Guys understand the importance of hard work, great customer service, convenience and affordability. We strive to provide all that and more for our customers, no matter how big or small the job at hand may be. We know that as a homeowner or business manager, you already have a lot on your plate to worry about, which is why we strive to make our work as solid, unobtrusive and effective as possible. We have been serving the greater Yakima area for nearly a decade now, and we hope to continue doing so for many more years to come.
Affordable Seamless Gutters
The Gutter Guys specialize in gutter and leaf guard installations, and we also offer cleaning gutter services. We are fully licensed, bonded and insured for your peace of mind, and we are proud members of the Central Washington Home Builders Association. Whether you hire us for a one-time gutter cleaning or a major installation job, we will do our best to provide gutter service so effective that you will want to hire us again. Here are just a few reasons why you should contact us at The Gutter Guys to install your affordable seamless gutters in Yakima County, WA:
We are a proud locally owned and operated small business in Yakima, WA.
We have nearly a decade of experience in serving the community.
Our workers are friendly, hardworking and professional.
We are fully licensed, bonded and insured.
Our installation and cleaning prices for seamless gutters are very reasonable.
---
Areas Served
Proudly providing residential and commercial clients the best gutters and gutter service in Yakima, WA and the surrounding areas including:
Yakima, WA
Yakima County, WA
Union Gap, WA
Toppenish, WA
Selah, WA
and more