Gutter Maintenance in Yakima, WA
After your initial gutter installation, it's important to establish a regular maintenance schedule to make sure they continue to function optimally and experience minimal degradation over the years. The Gutter Guys are here to help! Learn more below.
Gutter Repairs & More
At some point, you may notice that it is time to clean or repair your gutters. Here are some common signs indicating that gutter cleaning or gutter repair is needed:
Water is overflowing from the gutters
You see standing water near your house's foundation
Plants growing in the gutters
The gutters are sagging
There are leaves and debris in your gutters
You do not remember when the previous cleaning was completed.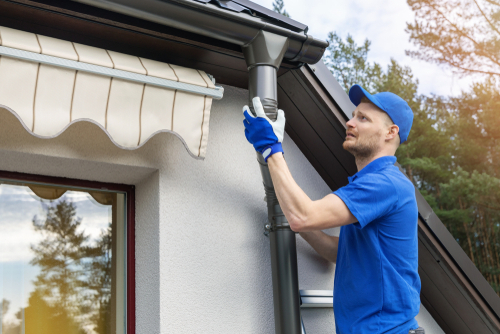 What Are the Benefits of Gutter Cleaning?
The advantages of having gutters are the following:
Prevention of soil erosion. Gutters act as a safe and effective pathway for rainwater. Without gutters, the water will soak the soil by causing soil erosion.
Protection of the siding. Regardless of the type of siding you have, it will be damaged after a while if you do not have a properly installed gutter system. If there are no gutters, rainwater will get too close to the walls of your house by affecting the siding.
Keeping the basement dry. Installing gutters is one of the best ways to prevent a flooded basement. Water in the basement is not a good thing because it causes mold to grow and leads to serious damage. One of the main signs of the damage is cracks in your basement's walls.
Adding beauty to a property. If you choose gutters correctly, they will complement your house's roof color, siding, and other parts of your property. There are many types of gutters to choose from to make sure that they match your property, including vinyl and copper gutters.
Gutter Repairs & More
If you are looking for professional gutter services, including gutter cleaning, gutter repair, or maintenance, in Yakima, WA, contact us at The Gutter Guys. Our company was opened in 2006 and is known for its dedication to excellent customer service, high level of integrity, and professionalism. Our business is fully bonded, insured, and licensed. If you have any questions, or want to know more about the services, feel free to give us a call.