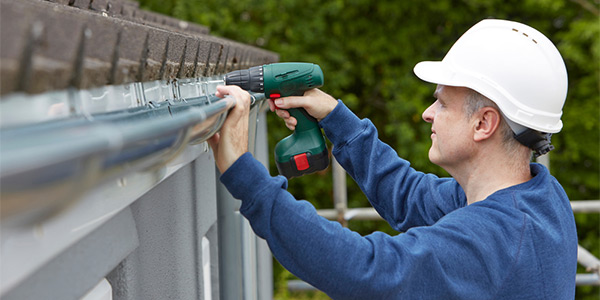 Since 2006, The Gutter Guys has been synonymous with excellent customer service, affordable gutters, and solid gutter cleaning, gutter installation, gutter maintenance and gutter repair in Yakima, Harwood, West Valley, Union Gap, and Terrace Heights, WA. Regardless of what job you hire us to do, you can always count on a job well done. Our team of gutter professionals is respectful, thorough and effective, and we value each and every job we are hired to perform. Here is a closer look at the different services we currently offer:
Gutter Repairs, Gutter Cleaning, & More
Installation: The Gutter Guys is proud to offer full-service gutter installation in Yakima, WA. We install only quality gutters in seamless, continuous, and traditional styles, and are happy to serve both residential and commercial clients within 100 miles of our Yakima location. When you hire us to install your gutters, you are guaranteed fast, affordable and long lasting results.
Repair and maintenance: In addition to installations, we also provide gutter repairs and maintenance work for seamless gutters, continuous gutters and rain gutters. We know that keeping a home or business running smoothly is difficult work, which is why we aim to make your life a little easier by completing all of our duties in a timely and dependable fashion.
Cleaning: Finally, we also offer gutter cleaning services for our quality gutters. Rather than stress about all the leaves and dirt that are collecting in your gutters, let us take care of it for you so that you can spend your free time relaxing with your loved ones.
The Gutter Guys is proud to offer gutter installation, gutter repair, maintenance and cleaning services. No matter what you hire us to do, we aim to always provide excellent work and affordable gutters designed for your home. To get in touch and learn more about us, please give The Gutter Guys a call at 509-930-7470, or visit our Contact Us page.